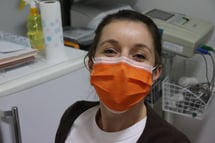 Recently I read a heartbreaking news story about a New York City emergency room doctor who took her own life. Seeing so many die of Covid-19 had left her without hope. As incredibly sad as her death was, there was something else in the article that struck me. The writer spoke with a nurse who was still working on the front lines, and what she said made me think.
She spoke of the 7 p.m. salute to heroes that rings through New York City every night, as people take to their windows, sidewalks, and balconies to cheer, applaud, and bang pots and pans to salute healthcare workers, grocery store clerks, and all of those essential workers who are keeping things going while so many shelter in place. The nurse said that she often cries as she hears this salute, because she does not consider herself a hero. She's just doing her job.
That statement kept bouncing around in my thoughts. She is just doing her job, but at the same time, she truly is a hero. Whether she is a woman of faith, or not, she is living a life of holiness. This is what Pope Francis spoke of in his exhortation Rejoice and Be Glad. When we bring our gifts into the service of God's people, that is both holy and heroic. Pope Francis tells us, "The important thing is that each believer discern his or her own path, that they bring out the very best of themselves, the most personal gifts that God has placed in their hearts."
When we "do our job" as Christians, we live a life of both holiness and heroism. To a struggling single mom, the person handing her a bag of groceries at a food bank is a hero. To the elderly person who lives alone, the person who calls to check in on them is a hero. To the patients with Covid-19, the nurse helping them breathe is a hero. Truly embracing life as a disciple of Christ, living out his love in the world, is both holy and heroic.
While we may never be comfortable with applying those terms to ourselves, we should always hope that we are doing something that will make others use them to describe us.