An Evangelizing Moment
Parents present their children for baptism for a wide variety of reasons. While we always hope that parents will come because they want to pass on their deep faith to their children, whatever brings them to our door is a cause for rejoicing. We have an opportunity for evangelization before us. Baptism Matters not only prepares parents and godparents to fully enter into the sacrament with their child, but also provides parishes with the tools to transform sacramental preparation into an evangelizing experience.
A Program for Today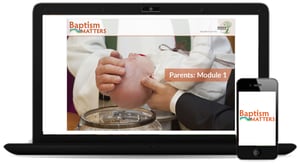 RENEW International knows that people are busier than ever. That is why we have created a flexible online solution that gives both parish staff and parents preparing for the sacrament access to materials wherever and whenever works for them. The program is presented in online learning modules; each module includes an assessment quiz or game and provides a certification upon completion.
Learn more
Watch the video below, download our brochure, or attend a webinar on February 5, 2020 at 2 PM ET to learn more about Baptism Matters and how it can transform your sacramental preparation into evangelization