An Evangelizing Moment
Parents present their children for baptism for a wide variety of reasons, but whatever brings them to our door is a cause for rejoicing! Even better, we have an opportunity for evangelization before us. Baptism Matters not only prepares parents and godparents to fully enter into the sacrament with their child, but also provides parishes with the tools to transform sacramental preparation into an evangelizing experience.
"My wife and I have had the pleasure of completing the online learning module, Baptism Matters for Parents, which we both found to be extremely well done: poignant, informative, compelling and highly inspirational.
In particular, we found it to be perfectly balanced between teaching the spiritual / symbolic importance of the sacrament and the day-to-day roles we, as parents, must play in our domestic church. In addition, the order of themes and messages, and the sequence and variety of speakers was both engaging and logical."
--Ben & Cecile Gillespie
A Program for Today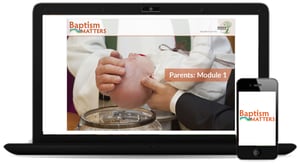 At RENEW International, we know that people are busier than ever. That is why we have created a flexible online solution that gives both parish staff and parents preparing for the sacrament of Baptism access to materials they can use wherever and whenever works for them. The program is presented in online learning modules; each module includes an assessment quiz and provides a certification upon completion. Additional resources for parishes include an interview guide and intake forms for meeting new families, an in-person faith-sharing outline for gathering families together in prayer and fellowship, and automated emails to go out to parents on special days, such as the child's birthday and baptism anniversary.
"Baptism Matters is theologically sound, pastorally sensitive and extremely user friendly. Thank you RENEW for giving us such a wonderful program!"--Theresa Prymuszewski, Archdiocese of Washington
Learn more
Watch the video below or download our brochure to learn more about Baptism Matters and how it can transform your sacramental preparation into evangelization.
Access Baptism Matters
Click HERE to choose your Baptism Matters product.
This link offers options for parents, godparents, and parish staff as well as a FREE demo of Baptism Matters. Add the demo program to cart and complete the free checkout process to access the sample session.
Questions?
Contact us at 908-769-5400.