Small Groups 101
As we continue to navigate this pandemic and life afterwards, we know people are hungering for spirituality, community, support, and a sense of renewed purpose. Small groups can feed that hunger. That's why we are offering our brand-new Small Groups 101!
We want to equip parishes everywhere to harness the amazing transformative power of small groups and their big impact—which we've done for over 40 years—to form disciples, build community, and renew parish life!
Small Groups 101 is: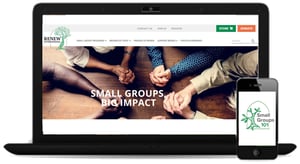 Easy
Flexible
Online
Fully supported
Affordable
Small Groups 101 brings you our expertise in establishing vibrant small-groups ministries. Through video tutorials and clear, concise guiding documents, you will learn the skills and best practices that will make your small-groups ministry thrive.
Questions?
Contact the Director of Sales at 908-769-5400 ext. 110.