Why Baptism Matters
Deacon Peter Fiore
"The Church of God receives you with great joy. In her name I sign you with the Sign of the Cross of Christ our Savior …." Every time I say these words, I am filled with great awe. As I reflect on the meaning of these words, I am humbled that as a deacon I get to pronounce them. Additionally, these words remind me that every individual's baptism is not only a blessing for their family but a great joy for the parish community and the entire church. I cannot remember where I heard this but I am reminded of it often, "our faith is always personal, but never private." Every person brought into the faith helps to expand the mission of Jesus Christ as we fulfill his command to go into the world and baptize all persons in His name. These words are said in the Rite of Baptism:
"Almighty God, the Father of our Lord Jesus Christ, has freed you from sin, given you a new birth by water and the Holy Spirit, and joined you to his people." We are community.
While I was in diaconal formation, I was introduced to a wonderful book "The Doors to the Sacred" by Joseph Martos. In the chapter on Baptism, he reminds us that while each sacrament imparts a special grace, Baptism bestows on us sanctifying grace. This is the grace of salvation and as one priest friend of mine jokingly told me a long time ago, "Baptism is the ticket to the dance"!
While we don't know if the apostles were ever baptized themselves, the gospels do mention that they did baptize believers during Jesus' lifetime. Most likely this ritual was most like a conversion similar to John the Baptist (according to Martos). We hear in the Acts of the Apostles (2;37-41) that they began to baptize those who accepted the message of Jesus immediately after the feast of Pentecost.
While the form of the rite of Baptism has varied throughout the Christian centuries, the theology of Baptism has stayed consistent. For all Christians, throughout all ages, Baptism is a symbol of salvation. It is a dying of an old life, giving way to a new one, through belief and acceptance in Jesus Christ as our Lord and Savior and we do so in community. Through Baptism, we are cleansed of all sin, the impediment of original sin is removed, and we are given sanctifying grace. All of this opens us up to a new and right relationship with our God.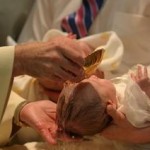 So much has changed and evolved through the centuries from baptizing only adults in the early church to including infant baptism during the patristic period to splitting out the three sacraments of Initiation during the Middle Ages. Also changed are how parents, sponsors and those being baptized are prepared. Certainly, the importance of the sacrament in family faith life has changed. One only has to think back 40 to 50 years ago to see the difference. During the 1950's, 60's and 70's to some extent, having a child baptized within weeks after their birth was common and expected. I myself, was baptized a week after my mother took me home from the hospital. It is a much different today.
Preparation for the sacrament of Baptism has had tremendous changes over the centuries. Early Christians went through years of training and in secret for fear of their lives. Once Christianity was more accepted and candidates were able to be out in the open, their training remained lengthy. Early church fathers knew that a full understanding of the faith was important for acceptance of the faith. Once baptism was separated from confirmation and presbyters began to baptize infants it became important for parents and sponsors to take on the responsibility of guarding and passing on the faith to their children. Preparation of parents and godparents is still most important for their role as guardians of the faith and their time in preparation presents an excellent evangelizing opportunity.
Studies have concluded that many young people don't see the value in coming to a building for their religion, especially if they don't feel welcomed. That being true, receiving the sacraments, in this case Baptism, in church isn't as important in today's world. This thinking is certainly different from their parents and grandparents! I am sure that many of us have had experiences, sometimes in our own families, that a new baby arrives, and no one seems in any hurry to schedule a baptism. I hear from deacons all over the country that more and more older children are being brought to them for Baptism. Parents say that it (Baptism) just "fell between the cracks!"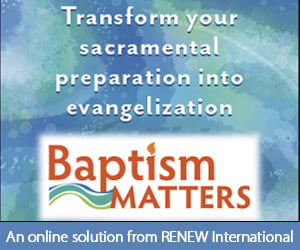 When we look at the characteristics of today's young families, we see that they are "crazy" busy with packed schedules and agendas, they are very tech savvy, want community and like being welcomed. In my experience (I have four children who fall into this category), all those "crazy" busy folks do get most things done. So, I ask, "why can't they manage to bring their child to be baptized?" In my humble opinion the answer is that it simply isn't important enough to them. If it was, they would manage to fit it in like everything else they do.
If we in the Church were running a business, with a product to sell, now would be the time to ask, "Have we presented the promise of value to be delivered?" or, "How have we failed to deliver the value of the sacrament?" I believe we are at a critical point, a time to step back and look at what we are doing or not doing.
Knowing what we know about young families, how can we answer these questions and consider the implications:
First and foremost, are we welcoming to young people in our communities? This is especially important when they come to the rectory to register for Baptism. This first point of contact is most important. Are we as welcoming as we can be or are we unintentionally turning more young people away?

Are we flexible in helping them schedule their baptism preparation? Do we offer content that is available online?

Are we meeting them where they are on their faith journey? Do we spend the proper amount of time to get to understand where and what their relationship with God is? Are we discussing the most important things when we meet them in person or is the preparation just a catechetical check the box?

What do we teach them during their preparation? Is it old, hackneyed and better suited for yesterday's Catholics or is it fresh and relevant to today's young adults? Is it engaging? Are we sure every set of parents gets the same information or do multiple team members "do their own thing?"

How do we prepare them, where do we prepare them? Is this convenient? Do we make this a chore, something they can't wait to finish and check a box? Is there a way to do this that is more fun (yes, we can make it fun)! Do we consider using in their preparation the technology young adults use all the time? This is the age of computers, iPhones, and iPads. This is the age of computers, iPhones and iPads. The new Directory of Catechesis makes a point of saying "Within the Church, there is often a habit of one-directional communication: preaching, teaching, and the presentation of dogmatic summaries. Moreover, the written word alone struggles to speak to the young, who are used to a language consisting of a combination of written word, sound and images. Digital forms of communication instead offer greater possibilities, in that they are open to interaction." (Section 214 pg 131-2)

Are we using this time of sacramental preparation for their child's baptism as a time to also bring the parents closer to God? Are we enriching their faith? Yes, this is a perfect opportunity to evangelize, which we know is what we are all called to do by our Baptism!
Surely our answers to these questions will vary and certainly none of them asked here are meant to be judgmental. We as deacons share an awesome responsibility to the sacrament of Baptism. We can make a difference in how we prepare parents to celebrate the sacrament. How we use this time to evangelize young parents in an enthusiastic, relevant, and engaging way will help keep them and their child connected to our parishes beyond the Sacrament of Baptism. Each time we do these things we have an opportunity to bring disconnected families back to church and families who already are connected closer to the parish community.
In closing, when I was a young boy attending St. Benedict School in Brooklyn NY, my 8th grade teacher Sr. Apolonia drilled into us that no matter what we did in life, how much money we made or not, how famous we became, we were only expected to do two things. First, we needed to live our life so well that in the end we get to be in the presence of God and second that we help bring as many others with us. I am reminded of this every time I celebrate a Baptism for in some small way I feel that I am helping another on their journey to the presence of God in heaven. I pray that I not only bring the baptized child closer to God but also his/her family and all those present in the church that day. Thank you, Sr. Apolonia!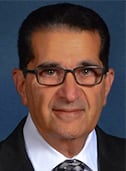 Deacon Peter Fiore, a deacon of the Diocese of Paterson NJ, is Director of Sales and Marketing for RENEW International. Pete is a member of Holy Family Parish in Florham Park NJ where he serves as Director of Evangelization and RCIA.
Questions?
Contact the Sales Office at 908-769-5400 ext. 110.