Faith Sharing with Waiting with Joy
Mondays at 7 PM ET
November 30—December 21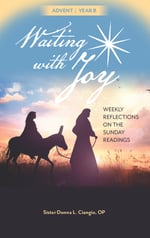 RENEW is offering ADVENT faith-sharing opportunities this fall to awaken faith and grow discipleship. All are welcome to join our ADVENT faith-sharing sessions using our popular book Waiting with Joy.
Sessions will take place on Monday evenings at 7 PM ET starting on November 30 and continuing through December 21.
Focus on the significance of the holy season of Advent; reflect on how to be more open to Jesus' presence in your life; and deepen your faith with Waiting with Joy, weekly reflections on the Sunday Readings for individuals, families, and small groups.
Waiting with Joy invites us into Advent with scripture, engages us with reflections to live our faith in-between our Sundays and compels us to wait with joy for the coming of our Savior.
This title is also available as an e-book.