Advent Faith Sharing for the Haitian Community with Dr. Sœurette Fougère
Tuesdays at 7 PM ET
November 24—December 15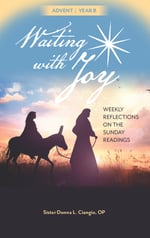 Reflect and share in virtual small groups—in Haitian Creole— on the readings for the coming Sundays of Advent using RENEW's popular book, Waiting with Joy.
Join Dr. Fougère for four weeks at 7 PM ET on Tuesday evenings, from November 24 through December 15.
Although Waiting with Joy, is written in English, the faith sharing sessions will be conducted in Haitian Creole.
Waiting with Joy invites us into Advent with scripture, engages us with reflections to live our faith in-between our Sundays and compels us to wait with joy for the coming of our Savior.
After registering, you will receive an email containing a Zoom link to join the sessions.
Please be sure to purchase your copy of Waiting with Joy, which is needed to participate.