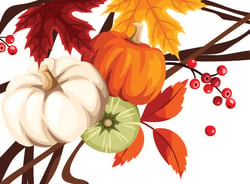 The earth has yielded its produce; God, our God, blesses us.
—Psalms 67:6
Good and gracious God of heaven and earth,
we seek to know you as the source of all grace,
to thank you for your many blessings upon us—
even amid constant challenges and snares.
We thank you for the fruits of the earth
and ask your loving, guiding hand to help us
heal and care for the whole of your creation.
We thank you for the gift of our fellow women and men,
all of us your children, even when we quarrel and doubt.
We thank you for the gift of life, for the community of saints,
for the call to serve your will and honor your covenant.
We make this prayer through Jesus Christ, Our Lord, the Holy Spirit,
and the intercession of Mary, the Mother of God.
Amen.
Click here to download and print a copy of the prayer to share at your Thanksgiving table.