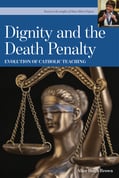 A recent documentary features Sister Helen Prejean (Dead Man Walking), whose insights are the subject of RENEW International's upcoming book Dignity and the Death Penalty: Evolution of Catholic Teaching. The film, titled SISTER, follows Sister Helen as she works on behalf of Oklahoma death row inmate Richard Glossip. The documentary, directed and filmed by Joe Cardona and José L. Vázquez, also explores the evolving ministry of Catholic women religious in America. WPBT PBS South Florida co-produced the film.
RENEW created Dignity and the Death Penalty in partnership with the Catholic Mobilizing Network. It is a small-group resource that helps participants reflect on the fairness of the criminal justice system, arguments for and against capital punishment, and alternatives to the death sentence.
For more information on Dignity and the Death Penalty and to sign up for updates, click here.
For a video clip of SISTER, click here.