RENEW International is excited to announce—and welcome—Theodore "Ted" Musco as the Vice President for Pastoral Services and Operations effective July 6, 2020. Ted will oversee the pastoral services and operations teams of RENEW, bringing to this new position his numerous pastoral and administrative skills gained from previous ministerial positions.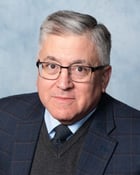 "After working closely with Ted for a number of years in the diocese of Brooklyn and Queens, I am excited to have his passion for mission, evangelization expertise and his leadership skills here at RENEW," said Sr. Terry Rickard, O.P., RENEW International's president. "He is a fabulous addition to our dedicated team."
A Fairfield University graduate, Ted has spent nearly 40 years serving in a variety of positions in Catholic schools, parishes, and dioceses. For 14 of those years, he has worked in the Diocese of Brooklyn, one of the most multicultural dioceses in the country, where Ted has been a teacher, principal, coordinator of youth ministry, director of Catholic education, diocesan assistant superintendent of schools, diocesan director of faith formation, diocesan executive director of evangelization, and most recently, secretary to the Bishop for evangelization and catechesis. Ted is a champion of small faith-sharing groups as a key element to creating vibrant parishes. For over five years, Ted has partnered with RENEW and brought our programs to more than 60% of Brooklyn's parishes, reaching more than 12,000 small-group participants.
"I am delighted to minister with gifted and talented leaders dedicated to serving the needs of those searching for an initial encounter with Christ and His Church or deepening a lifelong commitment made at Baptism," Ted says. "What a wonderful new opportunity it is for me to share in this essential mission of the Church."